Hearing Impairment
Chart provided by World Wide Hearing
Communication Break-Down
Consequences:
If you can't hear… you can't learn to speak
If you can't speak… you can't COMMUNICATE in a hearing world
If you can't communicate… you're socially and economically deprived
Usually this leads to:
1) Low sense of self-worth, insecurity
2) Lack of education, timidity
3) Stigmatization in many societies
4) Social isolation, under employment
5) POVERTY
Information provided by World Wide Hearing
You can learn more about the importance and impact of hearing aids by reading a research paper published by ATscale Global Partnership for Assistive Technology here:
Click Here to Read – AT2030 Product Narrative: Hearing Aids
Providing Hearing Aids to Syrian Refugees
Refugees are in need of hearing aids. The number of hearing injuries caused by the Syrian War has only increased – and the issue has now reached our very doorstep here in Jordan.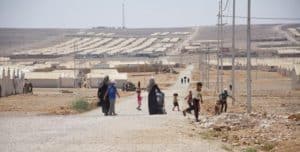 We reviewed in detail the challenges of delivering hearing aids in the developing world.
We want to utilize the best practices that currently exist, while leveraging new technologies to increase accessibility to underserved communities.
3DP4ME, in collaboration with our partners, has created a new innovative service delivery model.