We change lives by bringing modern solutions to people with hearing loss in underserved communities in the Middle East.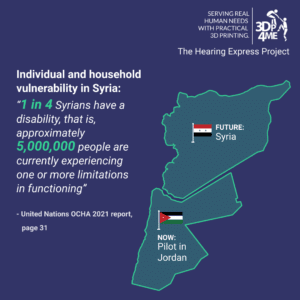 Pilot Details:
Launch in 2022
Pre-pilot activities
Open Jordanian Lab (2022)

Install tech, onboard staff and initiate operations. (July-August 2022)

Identify 50 kids ages 6-10 for the pilot (August – September 2022)
Complete Pilot
Pilot team to assemble in Jordan

Scan, model, print and fit custom earpieces

Fit 50-100 hearing aids
Goals
Establish baseline cost/hearing aid

Train local staff on use of full scan to print process

Establish 3DP4ME within the local market and initiate channel and brand development

Validate investment value to potential partners (private, corporate and public) to support ongoing activities

Confirm final service delivery model and sustainable model (mix of humanitarian and cost recovery based on channel).

The Project Carrier
Government of Jordan
Higher Council for the Affairs of Persons with Disabilities (HCD)

Project Lead
3DP4ME- "3D Printing for ME (Middle East)"
Jason Szolomayer, is the point person for the Hearing ExpressTM Project in Jordan.
We are currently fundraising for the new lab space, staff, materials, and training.
We plan to establish and cultivate a reproducible, sustainable model, leveraging 3D printing and 3D ear scanning technology.
We are focused on a cost-recovery model, for long-term sustainability.
Overall Project Goals:
1) To provide 12,000 hearing aids to 4,000 individuals who are in need of mono-lateral fitting (1/3) and 4,000 individuals who are in need of bi-lateral fitting (2/3).

2) To enable children who are hard-of-hearing to enroll in mainstream education and improve the potential for future employability, and to facilitate inclusion, employment and full participation in society by elderly persons who are hard-of-hearing.
3) To dramatically boost the hope of living a functional life for children and adults who are hard-of-hearing, thereby enabling them to better contribute to the wealth of the nation.