Sam has over 30+ years of experience in R&D; Commercialization of medical devices and an extensive background as a material scientist in his career. He is currently engaged in advancing innovation with various Industry thought leaders, healthcare practitioners and 3D printing technology providers.
Previously, as the Head of Johnson & Johnson 3D Printing Innovation and Customer Solutions, Sam Onukuri led the integration of 3D printing across various businesses and evolved the way we create and deliver products and solutions. He and his dedicated team advanced new materials and 3D printing technologies to innovate the design, manufacturing and delivery ecosystem. Sam worked closely with R&D, Supply Chain, Commercial, Quality, Regulatory, Legal and IT to drive 3D printing initiatives across J&J's medical device, consumer and pharmaceutical businesses. Those initiatives include bioprinting, point of care solutions, precision medicine, electronics and sensors, advanced metals and ceramics, polymers and natural materials and 3D enabled innovative designs.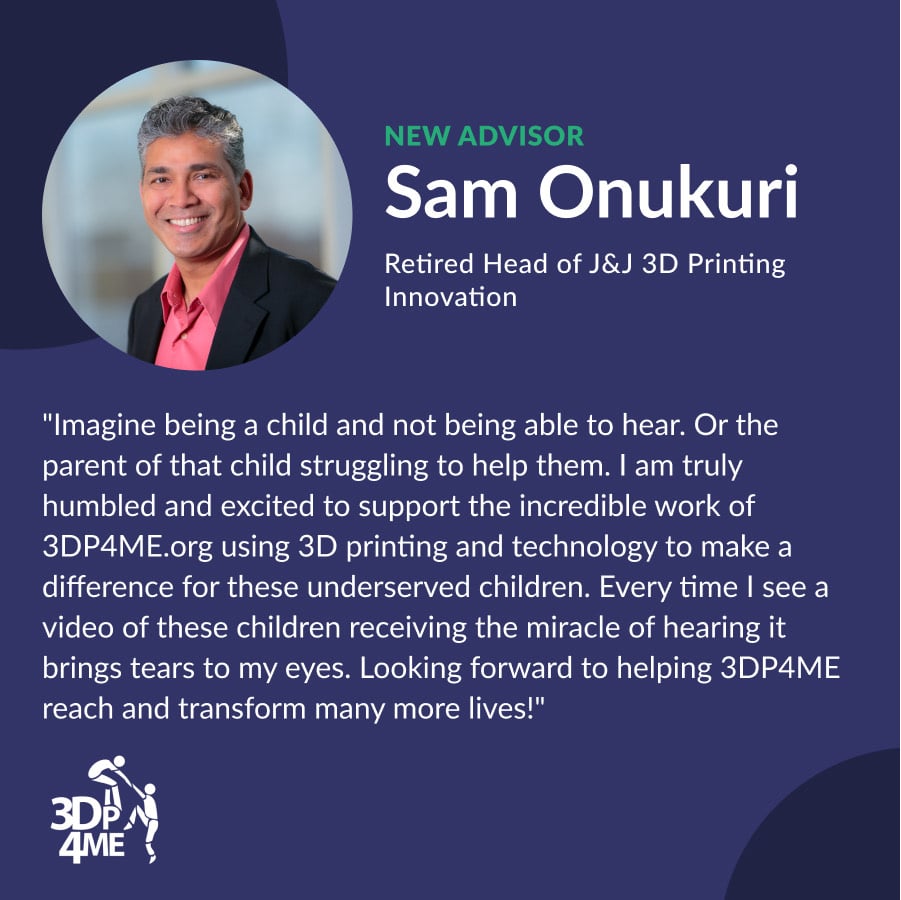 Prior to Johnson & Johnson roles include Advanced/Front-end Technology leadership for Medical Devices and Senior Fellow within the Ethicon family of companies. Prior to Johnson & Johnson, Sam worked at General Electric and Baxter Healthcare.
Sam currently resides in Cincinnati, Ohio with his wife Jeanne and 2 dogs (Guinness & Shamrock).
"Sam Onukuri is the man! After 27 years of incredible work at Johnson & Johnson, Sam could do anything he wants in retirement. He chose 3DP4ME. Enough said!" – Jason Szolomayer