We are so thrilled everybody enjoyed their time at our first community celebration event, a raffle and silent auction. We had an overwhelmingly positive response from everybody who attended. We appreciate each and every person who donated to make the event a success. 3D printing for the Middle East (3DP4ME) took a big step forward towards meeting our goals, to be able to give the gift of hearing.
Everybody got a chance to enjoy the delicious Middle Eastern food! Also, the exquisite music by professional Naser Musa playing the traditional Middle Eastern Oud guitar. (Pictured below)
Our team, highlighted how people could get involved with 3DP4ME. Towards the end of the night, we had a special opportunity to face time Jason, our founder, all the way from Jordan at 4am!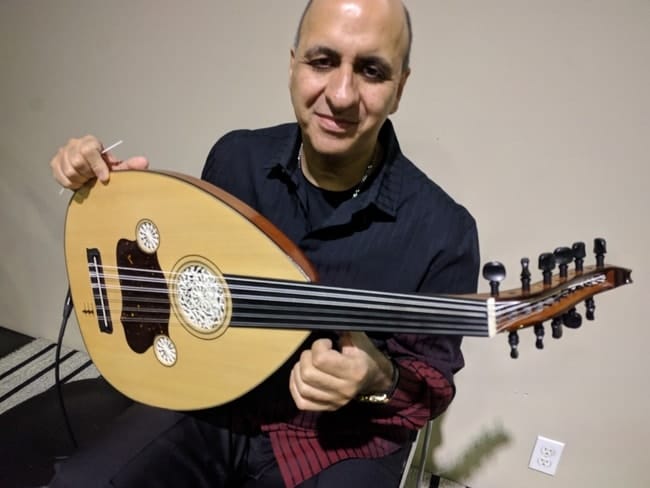 A big thank you to our sponsors!!!
Cordell Surfboards, Newport Beach
Spa Gregories, Newport Beach
(Member) from Shady Canyon Golf Club, Irvine
Roger Dunn Golf Shops, Santa Ana
(Members) Newport Beach Country Club, Newport Beach
KudCi' Hair Salon, Corona Del Mar
Krouse Travel, Inc
Hi-Time Wine Cellars, Costa Mesa
Ray Carrasco, PGA Teaching Professional
(Member) El Niguel Country Club, Laguna Niguel
Hanold Properties, George C. Hanold, President
Crevier Classic Cars, Donnie Crevier
The Word & Brown Companies, John & Rusty
(Member) Mission Viejo Country Club, Mission Viejo
A special thank you too!
Rock Harbor Church, Costa Mesa (Hosting)
LA times, (News coverage, PR of the event)
Mouse Graphics, Costa Mesa
Naser Musa, Oud professional musician

Huge thank you to our volunteers!!!
Carla
Ryah
George
Amy
Connie
Linda
Craig
Husam
Bret