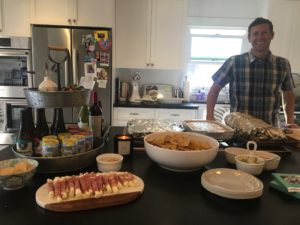 (That's an incredible spread!)
Enjoy a relaxing dinner.
Build community with other change-makers.
Learn how to get involved and make an impact.
We had the idea of 3DP4ME advocates hosting dinners in their homes, inviting a few close friends to attend and learn more about 3DP4ME. Last month we had our first 3dp4me dinner with 8 people, and it was a success.


(The new dinner guests included two couples: Patrick & Jackie, Ryan & Joanna. One of our 3DP4ME board members, Alex and his wife Lindsie, were amazing hosts! Also two additional 3DP4ME board members, Bret Hanson & Dennis Marshall joined in the fun.

Joanna said:
"My husband and I attended the dinner without knowing much about 3DP4ME. We really enjoyed meeting new people, hearing their stories, learning about 3DP4ME and ultimately everyone's collective passion for helping the people of Jordan. It was a special night, where we left feeling inspired and motivated to rally behind the vision and support how we can. The evening was a refreshing blend of community meets cause."
Patrick said:
"The dinner was great! For me, the dinner felt so relaxed and comfortable. I felt like I was being invited in on something special; helping meet a need for people on the other side of the world. Hearing stories about what 3DP4ME is doing and how they are literally changing lives by giving people the gift of hearing was powerful."
Stay tuned for more info on 3DP4ME dinners!